Out of the last three games (Chicago, Jacksonville and Detroit) I have only been able to watch scraps of each game. During the Chicago game I had to attend my brother's play production (which was actually quite good), only thing was I missed one of the most anticipated games of the season and I missed the beautiful-ugliness of the game. The next week, since no one cares about Houston here in Hawaii, I had to stream the Jacksonville game on my computer. Suffice to say it was pretty horrible (lag and picture quality, ehhh), I eventually logged onto the Houston Texans official site to access a quite useful live radio feature. The Thanksgiving Game was supposed to be that game I could watch right before a long Thanksgiving day. Unfortunately I woke up late and only caught the waning minutes of the first half before having to leave right after Shayne Graham's, well let's call it a kick in overtime. Again radio bailed me out.
Anyways the point is that the only true football I have watched in a while has been college football. Not really a point? Okay never mind then. Anyways I've spent some time looking at the tape of five receivers, all with 2-4th round talent. I only have time to focus on one at the moment.
The Ehhhhs:
Marquess Wilson: Washington State (6-3 188)
The tape I saw he drops way too many easy catches and his dismissal from the Washington State football program is troubling as well. He has decent size and is very good in space though.
Major Standout: Against Oregon he dropped 5 (yes FIVE) passes in a row, most were pitch and catch, backyard stuff too. Also the fumble is disturbing as well
http://www.youtube.com/watch?v=7ltYDTQgf0o
Terrance Williams: Baylor (6-2 205)
To me he is a possession receiver. He is extremely good underneath. However that is a result of the wide open Big XII defenses in my opinion. He lacks top end game speed and looks visibly slower than other players on the field. He also fall without any contact whatsoever. His YAC potential is extremely low and for someone with as good a center a gravity as Williams, he looks too easy to take down.
Major Standout: Williams goes down without contact consistently.
http://www.youtube.com/watch?v=uWudlePQytM
The Oooooohs:
Justin Hunter: Tennessee (6-4 200)
Hunter is a play maker and is quite consistent. He's got a great pair of hands and his catches are smooth and natural. He is a pretty good route-runner and blocker. He also has a very long, silky smooth stride. His 40 time will probably not be indicative of his true speed. He looks smooth on the field but his route running could use a little more precision. Overall he knows how get the football.
Major Standout: He always goes to the ground forward. Almost never lets himself be pushed back and picks up that extra 1-2 yards.
http://www.youtube.com/watch?v=T90LUDD4LpQ
CorDarelle Patterson: Tennessee (6-3 205)
Patterson is a playmaker. He makes ridiculous plays after the catch and is also a very good receiver. His route running needs some work but the speed, hands and natural playmaking is all present. As a receiver he gets open and catches the ball. However his YAC potential is sky high.
Major Standouts: Trust me this is a good waste of a minute or too.
End Around: 1:15 http://www.youtube.com/watch?v=QypUGJch5yk
Lot of good plays here: http://www.youtube.com/watch?v=QypUGJch5yk
00:20 KO TD
00:56 Could've been play of the year.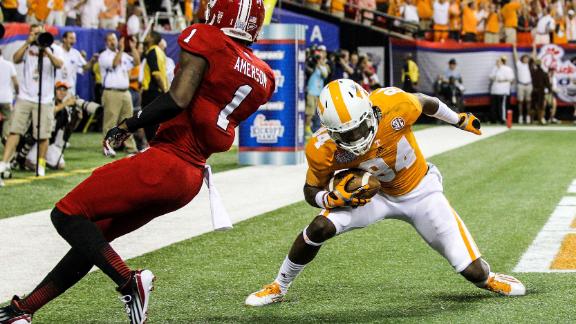 Quinton Patton: Louisiana Tech (6-2 200)
He deserves his own post. He really does. And no that's not a typo it is "Tech" not "State." In fact his game against Texas A&M deserves its own post. 21 Receptions in one game and four touchdowns, a beautiful display of quickness, savvy route running, big play ability, catching ability, and ability to beat press coverage. You know what? I would actually recommend watching the whole thing if you have the time, the stats from this game are eye popping but the tape shows the player behind the stats too.
Quinton Patton vs TAMU
Admittedly he starts the game rather slowly. However notice on every screen pass how the defender is literally lunging at a shoelace to make a tackle. Then:
1:48: The defender is going to try to jam Patton. It's not going to work. It's the red zone and you can bet that this defender was manned up on Patton and is supposed to bump and run with him. Although not so apparent at first, notice the instant replay. Look at the release, the burst off the line of scrimmage, the head fakes and fluid hips and explosion to the pylon. The catch is pretty decent too (sarcasm font).
2:37: Here's something a Houston fan can appreciate. The guy can block. Its an off tackle run. Its 4th down. Patton's man in all likely hood won't sniff the play. So what does he do? He makes the key block when the running back bounces outside. Touchdown.
3:29: Another example of a defender tackling air. Again notice the fluid hips and burst. Also something I love. Its a pitch and catch and the man still catches the ball with his hands.
4:15: Patton can adjust to a ball too and still catches with his hands. Just saying.
4:46: Yes I know that's the instant replay. Why? Look at that release. Its everything you look for, look at the footwork, the hips, the head fake. Also something a coach can't stress enough, his hands are up and ready to punch the arms of defender so he can come clean to the corner. Again the catch is a beauty.
Okay let's take a quick break.
5:03: Watch the replay. The fact that he was interfered with is disappointing. Patton not only stops on a dime, look at his entire body, its ridiculous. Also its nice that he comes out of the break with his hands up, again something lost in rough sometimes.
5:20: Okay Patton isn't perfect (or Andre Johnson)
6:17: Look at that corner. He's gotta be thinking "here comes the fade." Only thing is, is that when you can't get your hands on a receiver in the redzone, you're toast. The reason this works is because the corner is going to sit on the goal-line then jam the receiver when he makes his break. Only one problem though; Patton has abused the fade all game long and as a result the corner does the biggest no-no in the redzone, give up the inside leverage.
8:04: Just enjoy this ridiculous catch and run
8:50: He can get his feet in bounds too (This one is just piling on)
Here's the reason Patton is so dangerous. Defensive backs can't touch him. He has supreme game speed and is ridiculously quick. He has amazing feet and body control. He is a throwback to fundamentals. He keeps his hands up, he keeps his feet moving, he is a north to south runner after the catch. As a defensive back in the redzone, you're told two things, don't let the receiver come free off the line and never give up the inside. Patton exploits the first with his ridiculous footwork and burst combined with a reliable set of hands. Then he exploits it when a defensive back gives him the inside. In college there is no such thing as illegal contact. In college you can jam a receiver 10 yards down the field if you want. The fact that Patton can avoid jams and press is amazing. In the pros I can really see him as a really good number two. He will never have the pure beast mode, Fitzgerald, Green and the Johnson's have but he has a knack for getting open and making plays.