As draft day approaches names will be thrown around on who the the Texans should pick. However I am not much of a scout at any position but WR. I would like to share my take on the WRs of the 2012 draft. So lets introduce the prospects.
Greg Childs, Red Shirt Junior, Arkansas
Juron Criner, Senior, Arizona

Stephen Hill, Junior, Georgia Tech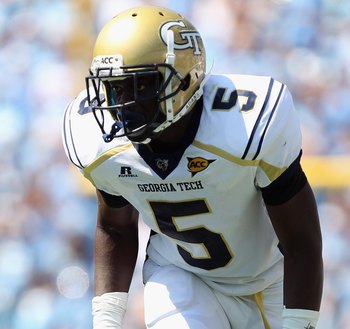 Alshon Jeffery, Junior, South Carolina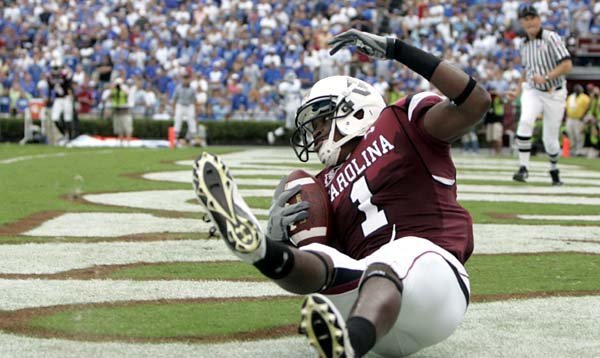 Marvin Jones, Senior, Cal
Marvin McNutt, Senior, Iowa
Brian Quick, Senior, Appalachian State
Mohamed Sanu, Junior, Rutgers
Nick Toon, Senior, Wisconsin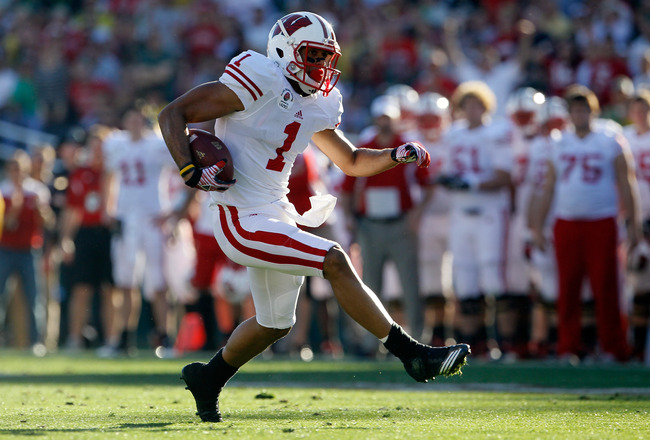 Thoughts:
Greg Childs: Excellent Receiver; in my opinion he would be challenging Justin Blackmon for the top receiver in the Draft if he wasn't Injured.
Juron Criner: Average. Criner shows a lack of NFL speed and explosiveness. It is evident on field that he just doesn't have that extra gear.
Stephen Hill: Potential; that's what Hill is being based off of right now. He needs work as a receiver but has shown that he is willing to put in the work and has the raw physical traits to succeed.
Alshon Jeffery: Once Jeffery runs at his pro-day I might write up an analysis on him. He needs to show that he has a solid work ethic because on film he is a monster but natural talent will only take him so far.
Marvin Jones: Undecided. Jones has some things he needs to work on. He is a decent receiver but really has nothing to show for in terms of college production.
Marvin McNutt: Overrated, he is slightly above average but would only be a steal in the 5th round. He quite frankly lacks explosiveness ( straight line speed, jumping, route running, etc)
Brian Quick: Needs work, Quick could really develop into something special but as of now, I do not see it on film.
Mohamed Sanu: Underrated, Sanu has a degree of game speed, polish and production rivaling Justin Blackmon's.
Nick Toon: Injured, Toon has to show to scouts that he can stay healthy and took a big step by running a 4.43 40 at his pro day.
Ranking System:
Running Ability: Route Running will be worth 10 points, 40 yard dash times of below 4.50 will receive 3 points and those at or below 4.40 will receive 5pts. 1 point will be subtracted for every 10th of a second longer ran. Total Worth is 15pts
Size: 6'2"+ receive full 3 pts. 6' and below receive 2 pts and 6'1" is up to me. 220lb+ will receive full 3pts and 210-219lbs will receive 2 pts and 209lbs and below receive one point. Total Worth is 6pts
Leaping Ability: Verticals over 35" are considered proficient and receive 2pts and Broad Jumps 10' or farther are proficient and receive 2pts. Total Worth is 4pts
Blocking: Blocking form and willingness will be worth 7pts and prospects that recorded 15 or more reps on the bench press are considered proficient and record 3pts. Total Worth 10pts
Catching: I look for a clean motion, hand catches. It may not seem like it but catching is a very highly considered mechanic. Looking the ball in proper placement and movement of hands all culminate in a higher probability of a catch. Total Worth is 10 pts.
Character: Up to my discretion but I generally want a clean criminal record and no incidents with coaches or teammates. Five pts will be awarded to those meeting that criteria and five will be awarded to those who were team captains and leaders. Total Worth is 5pts
Overall: After all criteria are taken into account the sum of their grades are added up to receive a score out of 50.
Example:
Mystery Receiver, Hawaii, 6'2" 222lbs
Combine Results: 4.43s 40, 10'3" Broad Jump, 37 in vertical, 16 reps on bp
Player Report: Was a team captain and was well liked by teammates. Has no criminal record.
Film: Film shows player shows understanding of complex routes and has a smooth running style. However shows a weakness in screen routes and quick hook routes; needs to work back to the ball. Prospect Receives 8pts. Film shows that prospect has good blocking form but needs more reps as a result of a pass heavy Hawaii offense. Prospect receives 6 pts. Prospect shows excellent hand-eye coordination and has an instinctive catching style that contains mechanics that prevents drops. Prospect receives 10 pts.
Overall: Using the rubric above this receiver would receive the following:
Running Ability: Route Running: 8pts, 40 Time (4.43): 3 pts, Total: 11 pts
Size: Prospect meets size criteria and receives full 6 pts
Leaping Ability: Prospect meets criteria and receives full 4 pts
Blocking: Film: 6pts, Bench Press Reps (16): 3pts: Total: 9 pts
Character: Team Captain, No Criminal Record, 5pts
Catching: 10 pts
Overall: Prospect scores 45 out of 50 and is given an A grade.
* Full Breakdown of Receivers 1-3 will be followed by 4-6 and then 7-9 then I will compile them and assign grades
Thanks for reading and I hope you read my next couple installments, I'll make sure to get them out soon. Aloha!