Thanks for all the feedback on my previous articles, it means a lot. Also I apologize for taking such a long hiatus. With just about two weeks from the draft, I will try to release a few more. Also today I'm going to be evaluating a tight end, Coby Fleener.
Ranking System:
Running Ability: Route Running will be worth 10 points, 40 yard dash times of below 4.50 will receive 3 points and those at or below 4.40 will receive 5pts. 1 point will be subtracted for every 10th of a second longer ran. Total Worth is 15pts
Size: 6'2"+ receive full 3 pts. 6' and below receive 2 pts and 6'1" is up to me. 220lb+ will receive full 3pts and 210-219lbs will receive 2 pts and 209lbs and below receive one point. Total Worth is 6pts
Leaping Ability: Verticals over 35" are considered proficient and receive 2pts and Broad Jumps 10' or farther are proficient and receive 2pts. Total Worth is 4pts
Blocking: Blocking form and willingness will be worth 7pts and prospects that recorded 15 or more reps on the bench press are considered proficient and record 3pts. Total Worth 10pts
Catching: I look for a clean motion, hand catches. It may not seem like it but catching is a very highly considered mechanic. Looking the ball in proper placement and movement of hands all culminate in a higher probability of a catch. Total Worth is 10 pts.
Character: Up to my discretion but I generally want a clean criminal record and no incidents with coaches or teammates. Five pts will be awarded to those meeting that criteria and five will be awarded to those who were team captains and leaders. Total Worth is 5pts
Overall: After all criteria are taken into account the sum of their grades are added up to receive a score out of 50.
Example:
Mystery Receiver, Hawaii, 6'2" 222lbs
Combine Results: 4.43s 40, 10'3" Broad Jump, 37 in vertical, 16 reps on bp
Player Report: Was a team captain and was well liked by teammates. Has no criminal record.
Film: Film shows player shows understanding of complex routes and has a smooth running style. However shows a weakness in screen routes and quick hook routes; needs to work back to the ball. Prospect Receives 8pts. Film shows that prospect has good blocking form but needs more reps as a result of a pass heavy Hawaii offense. Prospect receives 6 pts. Prospect shows excellent hand-eye coordination and has an instinctive catching style that contains mechanics that prevents drops. Prospect receives 10 pts.
Overall: Using the rubric above this receiver would receive the following:
Running Ability: Route Running: 8pts, 40 Time (4.43): 3 pts, Total: 11 pts
Size: Prospect meets size criteria and receives full 6 pts
Leaping Ability: Prospect meets criteria and receives full 4 pts
Blocking: Film: 6pts, Bench Press Reps (16): 3pts: Total: 9 pts
Character: Team Captain, No Criminal Record, 5pts
Catching: 10 pts
Overall: Prospect scores 45 out of 50 and is given an A grade.
Evaluation Process:
As there are many variables such as route running, blocking form and catching that are immeasurable, we should understand what I am looking for.
Route Running: A prospect receiving full 10 points shows proficiency at route tree (slants/angles, ins and outs, hooks, curls and screens), understanding of zone reads (sits in between defenders based on a read of coverage), fluidity (speed in and out of breaks. All of these are taken into cosideration when assigning grade.
Blocking: Prospects receiving full 7pts will show proper blocking mechanics such as proper use of hands, leverage and will also be evaluated at overall willingness to make blocks.
Catching: Prospects receiving full 10 points will have a compact and effective catch and also have an array of different catches. Prospect must show ability to catch away from his body using hands. Also prospects will be scrutinized on whether or not they look the ball in, an important yet overlooked mechanic in catching. Also prospect needs to show ability to catch balls over the shoulder on vertical routes.
Coby Fleener, Stanford, Senior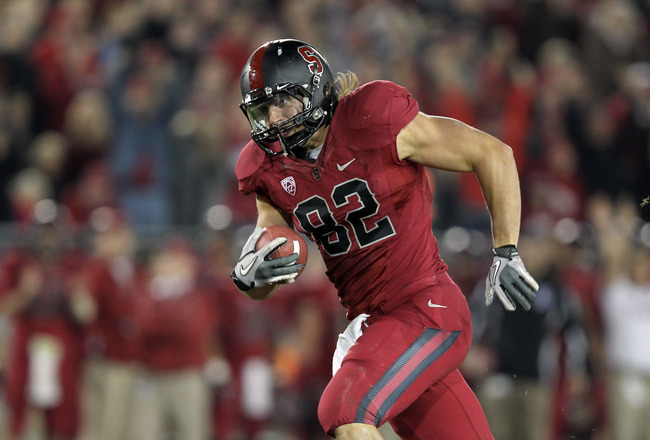 Measurables:
Height: 6'6"
Weight: 247lbs
40 Time: 4.45s
Vertical Leap: 37"
Broad Jump: 9'8"
Bench Reps: 27 reps
Film:


0:55: This isn't really an out route but it isn't a corner route either. Either way Fleener runs it beautifully. That defensive player that he just toasted was a cornerback. Fleener shows obvious explosiveness here and has a nice clean release and looks explosive in and out of breaks.
2:08: You need to watch the instant replay to have a true appreciation of the route. Fleener basically runs what DBs refer to as a corner-post. This basically means the route is a fake to the corner and then a break to the post. However WRs and QBs refer to this route as a set-post. Basically before Fleener makes his break he plants with his right foot to break left, gives a little head fake and shoulder dip, then makes his move to the post. Well executed and it shows.

2:30: Again watch the replay to have a true appreciation for the play. The route is decently ran. However the slow motion replay shows you a great look at Fleener's catching mechanic. After the play breaks down Fleener is still going full speed. However once Fleener makes eye contact with Luck and knows the ball is coming, he gets his hands in a diamond, looks the ball in and first down. Coby Fleener can catch.
Evaluation:
Running Ability: Fleener shows supreme explosiveness for his size and runs crisp routes. He is also able to out-muscle linebackers to avoid being re-routed. Fleeners route running is very refined on deep routes ( like the set-post). However stop routes like curls and hooks need to be run better to increase separation. Small problem, Fleener receives nine points out of ten for route running. Fleener ran a 4.45 and receives 4 points. Fleener receives 13 points.
Size: Fleener is 6'6" and 247lbs. Receives full six points.
Leaping Ability: Meets criteria for vertical leap and almost meets criteria for broad jump. Three out of four points
Blocking: Fleener is a refined blocker, coming out of a pro-style Stanford offense. He also put up 27 bench reps ( tops among TEs). He has the raw strength and explosiveness to be a great blocker. However he needs to work on his pad level when blocking. Fleener still displays great strength and footwork when blocking however. Fleener receives nine out of ten points.
Catching: I put another video in here just to show that one catch. I like Fleener's catch. Full ten points.
Character: No concerns, full five points.
Overall: Fleener receives 46 out of 50 points
Review:
Fleener is an intriguing TE prospect. He is enormous, possesses great strength but he also has the refined route running skills and explosiveness of a wide-receiver. Think of him as a slightly slower Vernon Davis, but also one that is 3" taller and a better route runner. Fleener would be a great pick at 26 in my opinion. Also think about this. Fleener ran a faster 40 time than Michael Floyd, Justin Blackmon and Kendall Wright. Although he runs a different route tree than those WRs he is also smooth and explosive at running his routes. He also possesses a great pair of big hands and a great catching mechanic. Add the fact that he is a massive 6'6 and 250lbs and Fleener compares well to many Wide Receivers. \
Thanks for the read. I will try to release a few more articles. Please comment with suggestions. Happy Easter and Aloha!
*Poll has been narrowed as I would be pretty dissatisfied with the other receivers. However my opinion really doesn't matter.