Now what are you gonna bitch about? Kubiak is fired. Marciano is fired.
Maybe we didn't see the signals that this was going to be a bad year...
So we are insignificantly worse than we thought we were. INSIGNIFICANTLY? Yes, because the worse you get - the more insignificant you become.
I never thought Kubiak would be fired before the end of the season - no matter what. No matter putting the Schaub back in - no matter getting 14 penalties - no matter what. Just the week before - the Texans went toe to toe with the Patriots. This wasn't because the Patriots played poorly either. The Texans looked like a respectable NFL team. I am not against the Kubiak firing - I always ask in these circumstances - was his coaching any different? (than the week before, than the year before)
Then they played the LOLJags. The Texans looked worse than the LOLJags, and the LOLJags did not play well. What happened? I think it is kind of what happened with this whole season compared to the past 2 before it. But I do not know what that "what" is.
Meet Your Texans Coaches:
I think these are the Texans Coaches right now(most titles are what they were as of the last Jags game):
Wade Phillips (defensive coordinator) Interim Head Coach
Assistants:
Bill Kollar (assistant head coach/defensive line coach)
Jeff Zgonina (assistant defensive line coach)
Vance Joseph (defensive backs coach)
Perry Carter (assistant defensive backs coach)
Reggie Herring (linebackers coach)
Bobby King (assistant linebackers coach)
Rick Dennison (offensive coordinator)
Dan Hammerschmidt (offensive assistant coach)
Karl Dorrell (quarterbacks coach)
Chick Harris (running backs coach)
John Benton (offensive line coach),
Jim Ryan (assistant offensive line coach)
Larry Kirksey (wide receivers coach)
Marc Lubick (assistant wide receivers coach)
Brian Pariani (tight ends coach)
Bob Ligashesky (assistant special teams coach)
Cedric Smith (head strength & conditioning coach)
Matt Schiotz (assistant strength & conditioning coach),
Joe Marciano (special teams coordinator)
(I just had to leave that strike-out there)
And no, for about half of those guys, I don't know anything.
14 - 8
Number of Targets - Receptions for Garrett Graham. He is no Owen Daniels. This is pretty consistent for Graham.
-2
Turnovers for the last game.
I am out of any clever numbers for this game (besides Andre being super awesome as usual).
Less-TAR JEEN - The pronunciation guide for Lestar Jean. For some reason this humored me. (also, insert tar and feather joke here)
I know 'tis the season. Please do not shop until you drop. Which leads me to the question. What is the proper way to abbreviate it is using an apostrophe? Apparently the definition of 'tis is it's. (just try to say that out loud without thinking of tits) Now why would they do that?
This next game will be the first game in Texans History without Joe Marciano as Special Teams Coach.
Should I predict defensive kickoff and punt stuffs, and Kickoff and Punt returns for TDs for the Texans?
My other question is - why not make the game fun? There are 3 games left. Let's see flea flickers and the like just for fun.
Many more months of meaningless speculation. That is what Texans fans have to look forward to. The speculation on who will become the next head coach? Who will be the next quarterback? Who will the Texans draft? Already, the draft talk has pretty much degraded into bad-mouthing some player because he isn't your player. And the "my player will definitely be a great player because... "(this is when the ridiculousness comes in). I am not sure I can withstand the next few months. In my opinion it is already far beyond the Fleener/Hill silliness.
Sort-of Related Pie Chart: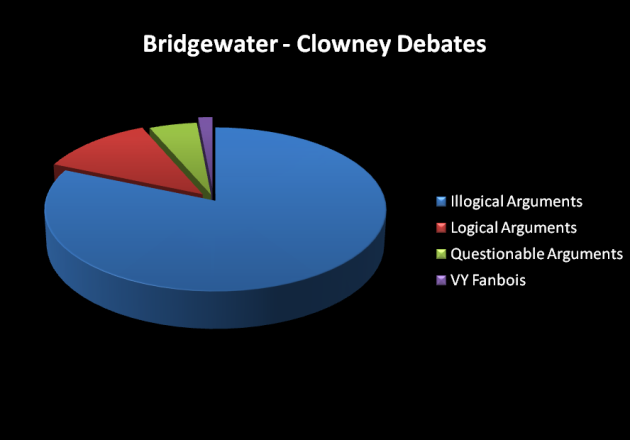 Meaningless Yet Somehow Related Storyboard:
Oh, and for all the people saying the Texans could have a "Chiefs Turnaround", just remember the Chiefs are likely almost as good as last year's Texans. There were many complainers/gripers about last year's Texans team too. We are already pining for "yesteryear."
Will the "SEC has the best defenses" myth please die? The SEC championship game - the one between the 2 best SEC teams - disproved that one.
That is this week's Thingy - Stay safe!