And you thought week before was bad...
I know I have waited quite a while to pull out this week's thingy. I have found it difficult to have any motivation this week. This pretty much described me working on this week's thingy:
I have watched the Texans from the beginning. I cannot say I have seen every game, because I have worked over seas quite a bit since the inception, and frankly - the interwebz was not all that great a lot of the time, or a lot of the paces. I was lucky to get a "box score"
And why the hell is it called a box score? Is it a box with the score in it? They aren't boxing. I don't know - and at the moment, I don't care.
This last game was the worst performance I have seen by the Texans. I am sure that technically there were worse games. This one was the worst I have seen. I am amazed at how poorly they played after just 2 weeks ago seeing a pretty good effort against the Patriots.
Some things I will never figure out. I kind of like Case Keenum, only because of the "story" and he seems to be a stand up guy. How is it he performs the way he did 2 weeks earlier against the Patriots - then he sucks against the mediocre defense of the Colts? I guess it won't matter anyhow.
This last game reminded me of inetech burning down after Milton found the traveler's checks in Lumburg's office. Just so you know, I blame all of these Office Space references on Capt Ron, as he posted something about it in a previous thread.
Speaking of Office Space - has anyone besides me noticed how the army men are rearranged in the scenes of the cubicles? Is there a meaning behind this - or is it that some flunkie on the set just places them hap-hazardly from scene to scene? And how do you "Loose one turn" on the "Jump to Conclusions" Mat?
So tell me - just how much time do you spend on these TPS Reports?
17
The number of messages left on Peter Gibbons' answering machine
12
Number of sugar packets Michael Bolton opens when they go to get coffee
8
Number of Bosses Peter Gibbons has that asks him about TPS reports
19
The number of players the 2013 Kansas City Chiefs kept from their 2012 roster.
I keep hearing about a "Chiefs Turnaround" being possible. This is allegedly in reference to the "fact" that they had a good roster. What most folks do not realize is that the Chiefs completely rebuilt their team. Completely rebuilt? How else would you describe a team that only kept 19 players from their previous year's 53 man roster? Here are those 19:
Allen Bailey DL
Eric Berry DB
Dwayne Bowe WR
Cyrus Gray RB
Tamba Hali DE
Derrick O. Johnson LB
Dontari Poe DT
Sean Smith DB
Note that 2 special teamers make up part of the 19.
88
miles per hour required to get the time machine in the Delorean working It is also the length in minutes (give or take a minute) of the movie Office Space
Peter Gibbons - The most interesting man in the World? He drinks "dos Equis"
"Don't worry man - I won't tell anyone either"
I don't care how hawt Jennifer Aniston was in that movie... You never tell anyone about your scheme!
"I did nothing, and it was everything I thought it could be."
If you noticed - I said pretty much nothing about the last game. My mom taught me that if you cannot say anything good about someone - don't say anything at all. I almost succeeded.
Speaking of good things:
MSpaint Morgan Freeman: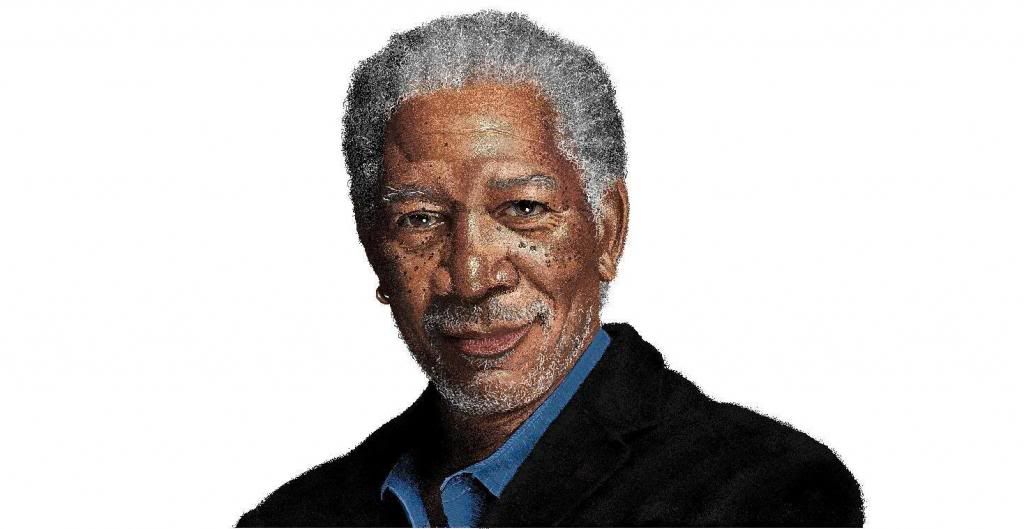 (You can see the image being created step by step)
MSPaint Stuart Scott:

Like the title says - not a single creative thing in this thingy this week.
Stay safe!