Keenan Allen (6-3, 211): California, JR 91 Overall Rating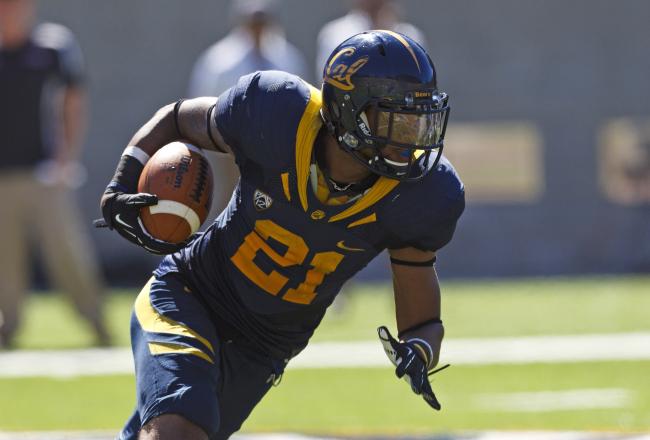 (Bleacherreport.com)
Physical Composite: 27

Height: (6) 6'3
Weight: (5) 210lbs
Speed: (8) ?
Vertical: (4) ?
Broad Jump: (4) ?

Allen has a great frame. I fully expect to come into the combine at 218-220. My prototypical X and Y receiver size is 6'3" and 220ish range (Andre-like, except most 230 pounders can't move like he does thus 220 is more of my target range). Sometimes you will have freaks that come in like Calvin Johnson but for the most part Keenan Allen has that great prototypical frame with a tall, muscular, smooth build. He'll probably run in the low 4.5s or high 4.4s. He could wow but for now he has above average speed and well within the target range. Allen should jump reasonably well too.


Film Composite: 64

Route Running: 22

Release: 5.5 (4:42, 5:31)
Fluidity: 5.5
Play Recognition: 5.5 (1:39, 2:03, 3:17, 5:54)
Breaks: 5.5 (5:02, 5:54)

Allen is one of the most well rounded route runners in the class. His release/shed is extremely proficient. He has great violent arms and is fluid enough with his lower body to avoid jams at the line. Allen is extremely fluid with a great stride and little wasted motion to maximize his velocity and disguise his breaks. His play recognition is excellent as well his ability to find the crease behind defenders is refined. His recognition of down and distance and pre snap reads is excellent as well. His understanding of reach and momentum is important to getting free and creating separation.

Catching: 10

Consistency: 7
Mechanic: 3 (0:34, 3:51)

Keenan Allen Doesn't drop balls. He fights for balls and makes the hard catches. He has a sound mechanic. Looks the ball in, uses his hands. He doesn't wait for the ball either. He shows the killer instinct to pluck the ball out of the air and use his body to box out defenders.

Body Control: 4.5
Allen's control of his body and his awareness of his position on the field are refined. However Allen has balance issues similar to Arian Foster's this year that limit his YAC ability. Allen's ability to stay in bounds on tough catches is very good and Allen shows a good control of his body.

Blocking: 4.5

Strength: 1
Technique: 1.5
Willingness: 2

Allen is a sound blocker, something the video doesn't show. Allen has the size to dominate defenders and is a willing blocker able to use his body and get into the shoulder pads of the defender. His technique needs work, namely his ability to get under defenders because of his height.
Play Making Ability
Deep Threat Ability: 8.5 (3:31)
Red Zone Presence: 7.5 (4:35)
YAC: 7.5 (4:10, 6:26)

Allen is a balanced play maker as well. His ability to shed at the line of scrimmage and lull his defender off balance down the field makes him a dangerous deep threat. Again his ability to shed at the line of scrimmage is what makes him dangerous in the red zone. Combine his shedding abilities with his play recognition and his ability to box out defenders and you have an ideal roll out and motion receiver in red zone situations. His YAC potential has yet to be tapped because Allen needs to refine his balance (a reason why his body control isn't perfect).
Overall: 91
Allen is a refined route runner, play maker and is proficient in catching and blocking. He is the most refined receiver in the draft (with the exception of DeAndre Hopkins). He does everything well. His fluidity in and out of breaks and his knowledge of momentum and reach allow him to create space from defenders. He has a great frame and sound catching and blocking mechanics. A good comparison would be Jordy Nelson of the Green Bay Packers. They both have similar frames and proficient route runners. Keenan Allen could really thrive in Kubiak's system. His ability to read defenses and abuse safeties underneath and over the top could be dangerous. His YAC potential is probably close to its limits. However Allen's biggest upside is his ability to take advantage of coverage with superior play recognition skills and he has great flow and breaks to go deep and negate press coverage. He also shows untapped potential as a red zone receiver. His ability to get free off the line and box out will demand attention and draw coverage off of AJ and OD and free up defenders in the box. Allen is a complete package as far as receiver goes in this class and Should he fall past the twentieth pick, Houston should make a move to acquire him.