Predraft- DeAndre Hopkins has shown that he can play on some days but is not the most dependable receiver. Denver's Eric Decker is a Free Agent this off season and the Texans definitely could use him to take some of the load off of Andre Johnson. Adding Decker would also help Hopkins get freed up in the slot and let Keshawn Martin focus on special teams. Huge upgrade if the Texans could land Decker. Also with the chance that Tate could leave along with just about every other running back on the roster look for that to be a position that has the potential of being addressed along with maybe adding depth in the LB category and maybe a DB. A couple other names that come to mind could be players like Donald Brown or Talib and Davis at the corner spot. A little off the deep end but if the Texans could land Bernard Pollard that could instantly help that secondary.
Draft- The obvious choice for the first pick has got to be Blake Bortles, He's the biggest of the top 3 QBs and looks the part for a Bill O'Brien type pocket passer. After the QB situation is addressed the next couple picks need to be on a DB and RB. In the second round you could look for the Texans to possibly land someone like Baylor's Ahmad Dixon or Michigan State's Darqueze Dennard if they're still available but there are plenty of talent and depth in the DB category this year including Liberty's Walk Aikens which is someone that the Texans could pull the trigger on. The RB issue is not as big of a deal but it would definitely be good to have a good second back for Ben Tate when Arian Foster goes down. Look at guys like Charles Sims, Tre Mason, and a steal if they could get him Andre Williams. Throughout the draft these two positions need to be addressed and both lines could always get a little depth and hopefully keep defenders off whichever QB starts this year's back.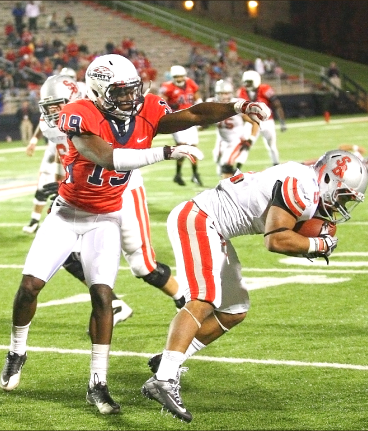 Preseason- If there are holes to still fill after draft day the Texans should hopefully just be adding a few pieces to the puzzle at this point. Just filling in depth maybe a couple older veterans that can play a few downs.
Conclusion- Its still very early in the off season and nobody can truly predict what teams are going to do in the next few months. I'll be continuing my predictive analysis as the off season continues, keep an eye on what O'Brien is doing he could surprise a lot of people in his first year as a head coach as long as he doesn't follow suit of the other Bill Belichick Coordinators.
Twitter- @RappVince