The Texans skill players did not play a perfect game. That's sad, because they really needed to for the team to have a chance to win this game. The offensive line of the Texans allowed pressure after pressure, and this might've been the worst tackling game I can remember out of the defense since the pre-season Saints game. At least that game had the excuse of substitutions being a part of it, this was just an abysmal performance. 

Sean McDermott and the Eagles dialed up blitz after blitz. By my count, the Eagles had five separate pass plays where a rusher came in untouched to the quarterback. That's unacceptable if you're attempting to win an NFL game. I don't care how few days you had to prepare. Wade Smith had probably his worst day as a Texan, and that showed both in the pass protection and in how the run game struggled to get traction. 
There were a few bright spots on defense, as hard as that may be to believe. One of them is that the players were at least in the right spots for the most part. Another is the play of Tim Jamison, which I want to get into a little bit behind the jump. Bernard Pollard also played pretty well when he was put into the spots that he excels in. When he's not put into those spaces, well, that's behind the jump too! Either way, it wasn't enough to make up for 12 missed tackles. And that's going by FO's interpretation of a miss, not just plays where someone took a bad angle.
So, behind the jump, we have the emergence of Jamison, an example of the untouched rushers the Eagles were getting (aka DefensePorn), a reminder to put Zac Diles out to stud, and what might be the worst individual play Frank Bush has called since nobody covering Chris Johnson on the sideline in 2009.
He's named Jamison, but he's one of the few Texans defenders that don't drive me to drinking
Tim Jamison didn't get a whole lot of playing time two Thursdays ago, but one of the things he did manage to do was to tie Mario Williams and Antonio Smith with three QB pressures in a very short amount of time. All from the edge, too. While the Eagles haven't a great offensive line in terms of sacks allowed this year, a lot of that comes solely because Michael Vick still will run himself into a sack or so a game, as he did in this one. Here's one nice example of Jamison going to work, he'll be at the top of your screen: 
You might have to open some of these images outside of the page to see the whole play, I couldn't tape this game normally and had to use a friend's HD version.
I'm wary of saying someone automatically deserves playing time based on production in small samples in the NFL, because ultimately NFL players have the smallest sample sizes of any players, and I've been dealt a few lessons based on projecting great things from part-time players (Hellooooo Jacoby Jones!), but I think that Jamison has at least earned a chance to show what he can do while Mario Williams is sidelined. Perhaps the Texans have a new Tim Bulman on their hands? 
Whack-a-Schaub
On those five plays where the rusher came untouched, Schaub actually managed to stay interception-less. He did fumble a ball when he was hit by an untouched rusher, but his interception came on a great screen read by defensive lineman Trevor Laws, and didn't seem very stupid at all given the circumstances.
Anyway, lets take a look at this one because it's my favorite: the Eagles come straight up the gut and the Texans have nobody there to pick it up:
Add on to those four untouched pressures/sacks with the sterling work of Trent Cole (four pressures) and Darryl Tapp (four more pressures, mostly thanks to Wade Smith) and Schaub was under pressure all night. Throwing for 337 with a 9.4 Y/A, and taking just 3 sacks/turnovers in the process is pretty remarkable under the circumstances. I felt he was doing a pretty good impersonation of his game against the Redskins.
The Zac Diles sadness show
It takes a lot of effort to continue to sabotage a season when your snaps are cut in favor of a rookie fourth-round pick, but Zac Diles found a way to do it. The staff has managed to figure out that he can't defend a pass to save his life, which is a good start, but they failed to remember that he also can't really tackle you either: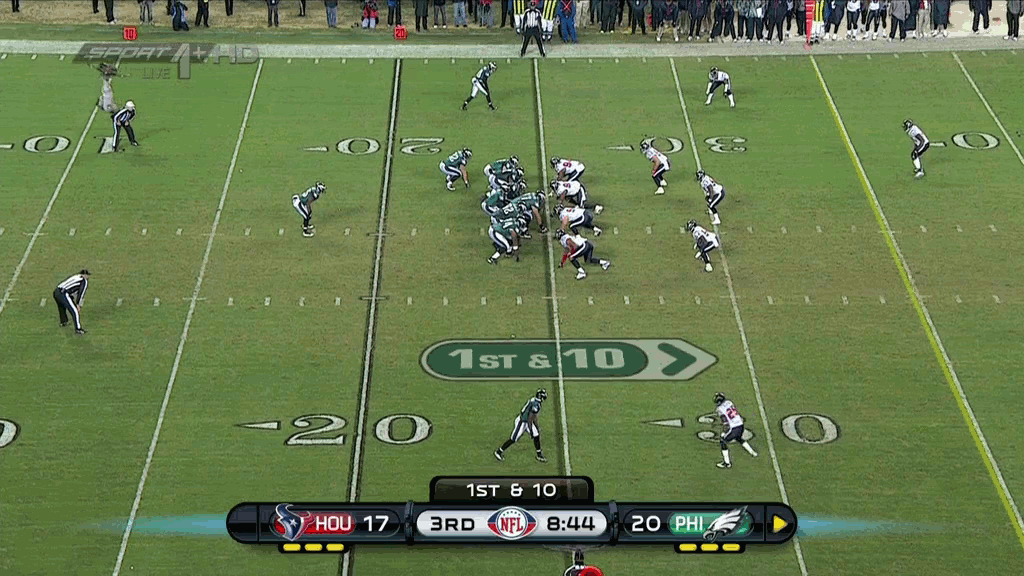 Okay, okay, so Vick in the open field isn't a particularly easy task. You'd at least like him to make Vick make a move. How about when he takes on LeSean McCoy? I like to think he dedicated this last one to Brice McCain: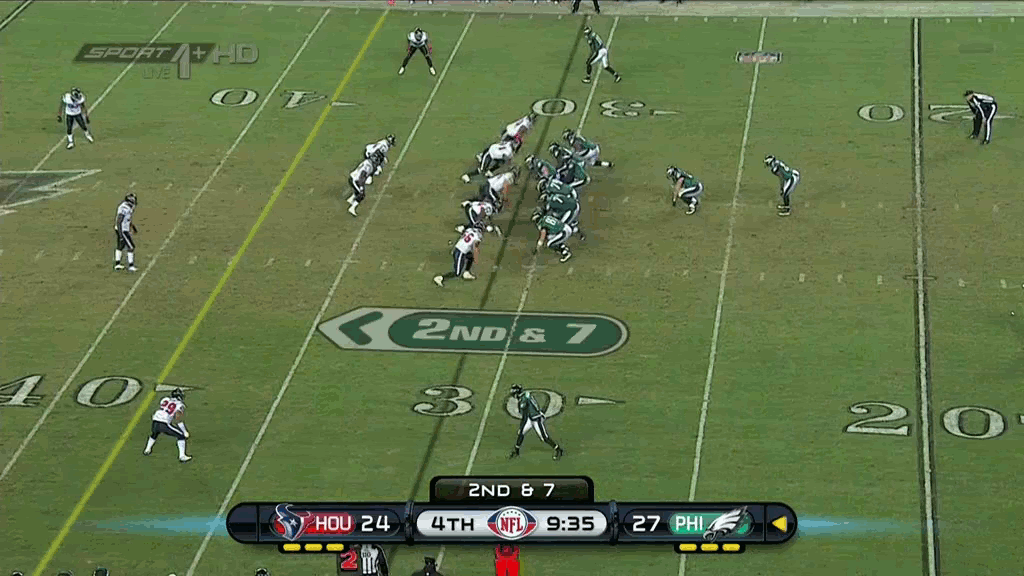 Can Darryl Sharpton please be given run of the field now? Thanks. We've seen enough of this for one year. I'm not sure if Diles is playing hurt, the extra responsibility has gotten too much in his head (Steph Stradley's theory), or if he's just regressed, but he's been awful even by my standards of mediocrity for him. He's holding the Texans defense back with every snap he gets. And that's saying something. He can try again next year. 
The clusterf**k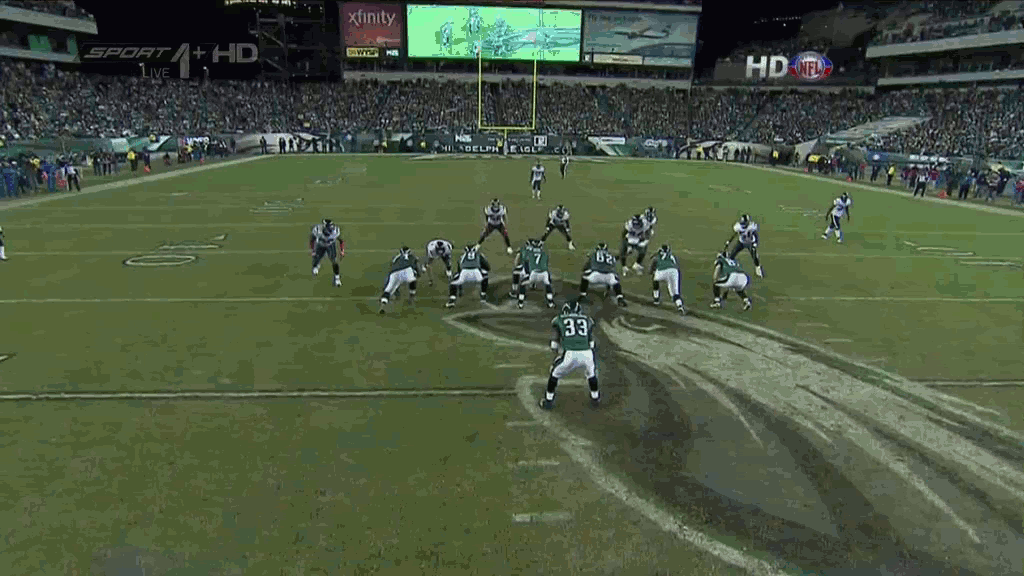 Problems with this play, best as I can see
A) Frank Bush has tried something different. Kudos! None of the players seem to know where they're going at the start of the play. Boo-dos!
B) Mario Williams drops into pass coverage. This is always a recipe for a bad play.
C) Mario Williams drops into pass coverage and you didn't even send a blitz. Why didn't you send a blitz if you dropped a defensive lineman into coverage? I don't know, but you did.
D) Despite the Eagles running out of a three wide set for almost the entire game, the Texans appear to be short a defensive back on this play.
E) You covered the best deep threat in the NFL with Bernard Pollard. Off the snap.
Only three more games people, then maybe Kubiak (or his replacement, that would be even better, actually) can stop believing in this man and send him back to the WAC, where he belongs.