Joel Corry and Ari Nissim are back at it again in the fourth part of National Football Post's "Agent vs. Club: J.J. Watt Mock Negotiation".
In case you missed the previous segments:
Let the negotiations continue!
AGENT (Joel):
Thank you for another offer that doesn't alleviate our Andre Johnson concern. Making a distinction between his six-year extension and your offer of five new years is meaningless. The same problem would have existed for him with a five-year extension.

Your new offer is below the latest non-QB data point. As you know, Seahawks cornerback Richard Sherman recently signed a four-year, $56 million extension ($14 million average per year) with $40 million in guarantees. This deal is more evidence of the changing market conditions for the game's top players.

Richard Sherman's new contract has added another dimension to these negotiations.

Patrick Peterson, the fifth overall pick in J.J.'s draft class, has been anticipating that he would get a new contract this off-season. He's going to try to make Sherman's reign as the NFL's highest-paid defensive back a short one. Unlike Sherman, he is clearly the best player in his team's secondary.

I have a hard time believing Ndamukong Suh will accept anything below Sherman's deal. It's more likely that Suh will eclipse the $15 million average per year an aging Richard Seymour received on a fully guaranteed two-year deal from Oakland in 2011 than he will take an extension under Sherman's.

You can choose to ignore that salaries are going to continue escalating for the best players. That approach won't be conducive to us reaching an agreement. I appreciate that J.J. is under contract for two more years. I just view the anticipated changes in the salary landscape for top non-quarterbacks in the coming years as an overriding consideration.

I recognize that you raised the overall amount in guarantees from $22 million to $36 million. Reducing the amount fully guaranteed at signing from $22 million to $17 million is counterproductive.

The offer below contains substantial concessions structurally. Although I have reservations about the organization's ability to maintain the policy on offsets with rookie first-round selection Jadeveon Clowney because Greg Robinson (Rams) and Blake Bortles (Jaguars) will probably sign contracts without offsets, I'm willing to accommodate you on the issue.

I've also accepted the concept of conditional guarantees by significantly lowering the amount fully guaranteed at signing. Once again, I've tried to keep the percentage of Total Running Cash at the beginning of the proposal consistent with the five-year extensions Aaron Rodgers and Patrick Willis received with two years remaining on their contracts. In the later years, I've adopted a percentage of Total Running Cash comparable to those years in your new offer.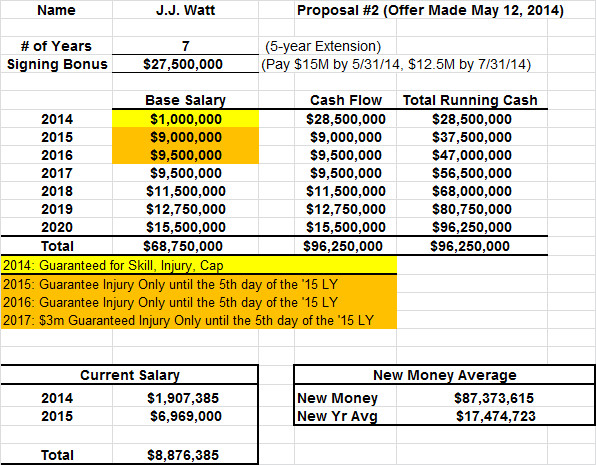 CLUB (Ari):
Joel, with all due respect, J.J. Watt having an agent should alleviate the Andre Johnson concern that you continually mention. If you or your client does not wish to do a deal two years early because other players may sign for higher amounts after J.J. signs, then we suggest waiting.

We appreciate the walk down memory lane of old Raiders contracts. However, you failed to mention the contract that Nnamdi Asomugha signed in 2009 as an Oakland Raider at an average over $15 million per year. An average that Richard Sherman's new contract did not eclipse event though he is currently the highest paid CB in football. Thus, your point about contracts at the top of the marketplace always increasing is not certain, especially when the top of the market contract has a free agent premium for playing in one of the less attractive free agency destinations such as Buffalo.

...

As I have mentioned before, if you are attempting to take into account contracts that are to be negotiated in the future or looking to make J.J. the highest paid non-QB in the league, it's probably best for everyone to continue these conversations after the season. Your numbers are astronomically high, and as Darrelle Revis' misguided one-year pirate voyage showed, a high average is not always a benefit to the player. This is something we are attempting to avoid in J.J.'s deal. Part of our reason for extending J.J. is the fact that we believe he is the type of player our team can build around, but that also means we believe he is a player that realizes that making a great salary while allowing his club to continually compete is better than being the highest-paid player without the possibility of the team getting better because he is taking up too many resources.

None of your arguments justify a deal of the magnitude you are asking for when weighed with the facts that two years currently remain on J.J's contract or the fact that over the next three years J.J. would receive roughly $25 million if we franchise him (something we would prefer not to do). Our current offer is significantly more than that three-year amount in both cash to be paid over that same period and guarantees in an effort to show how serious we are in doing this deal.

In addition, by playing in Houston, J.J. benefits from the fact that Texas does not have a state income tax which provides him with a savings of as much as 13.3 percent over players that play in other states, or more specifically, J.J. will save 8.82 percent in New York where Mario Williams signed. 8.82 percent is the equivalent to $1.4 million per year. Thus, J.J. Watt making $14.6 million per season would be the equivalent of Mario Williams making $16 million per year in New York.

In regards to your recognition of the conditional guarantees structure, we are happy you see that this is a way we can accommodate increasing our overall guarantee amount. However, it will have to guarantee for skill and cap in that league year just as the deals for Richard Sherman and Earl Thomas that were recently signed have been.

In an attempt to demonstrate our seriousness, we have increased our guarantee to $40 million, with $19 million paid in the first year, increasing our average per year to over $14.2 million a year in new money. If you take into account the savings J.J. receives because of the lack of a state income tax, this deal is equivalent to roughly $15.6 million if he were to sign a deal in New York.

We sincerely would like to get a deal done with J.J. However, if you feel that the contract we are proposing will create a dilemma in the future, and J.J. does not want an additional $20+ million dollars in the years that he is currently under contract for, then we appreciate the time you've spent on this, but feel it's probably in everyone's best interest to wait until after the season to continue our talks. If you do not find our current offer to be adequate, your counteroffer will have to reflect a significant reduction in regards to the total package if we have any hope in finding common ground.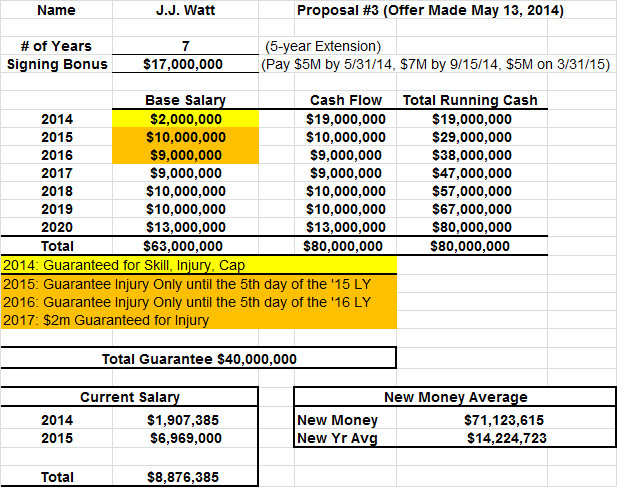 Will Watt ever sign with Houston? Stay tuned until next time.