My face when I realize the Atlanta Falcons are this high up in the draft list: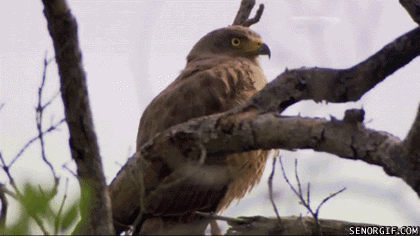 After making the playoffs in 2008, 2010, 2011 and 2012, the Falcons have floundered to consecutive losing seasons, leading them to fire Mike Smith and ushering in Dan Quinn at head coach. Local BRB reader grandmasteroz is in charge of helping them turn the ship around with...
With the 8th pick in the 2015 BRB Mock Draft, the Atlanta Falcons take… Alvin "Bud" Dupree (DE/OLB -- Kentucky).

This was a tough pick to make. The Falcons have 3 glaring issues- pass rush, run stopping, and running the ball. They also have needs for a TE threat and another CB, both of which I suspect will be targeted in the later rounds.

Being the 8th pick, I think it is a little early to go after one of the big backs in the class. The Falcons definitely need someone to be able to run the ball- Steven Jackson, Devonta Freeman and Jacquizz Rodgers combined to average a whopping 3.75 yards/carry last year and between the 3 of them only gained 1,172 yards and 8 TD. Dan Quinn will look to add a running back to the already potent passing attack that he will inherit. This will help to take the pressure off of Julio Jones, Roddy White and Matt Ryan; it should give the offense more balance while having the added effect of making an already potent passing attack that much more effective. Look for the Falcons to take a high profile back in the 2nd to address the other huge need for them.

The next two options were to address the pass rush and stopping the run. On the ground, the Falcons gave up almost 1,900 yards last year. And that is while playing in a division more known for aerial attacks rather than ground games. Danny Shelton could be an option here, though I would suspect that the Falcons will find some mid-round DT to help Paul Soliai out.  I also wouldn't be surprised to see the Falcons double dip at DT in the middle to late rounds for rotational guys who can help stop the run.

All that's left is the biggest glaring need for the Falcons- the anemic pass rush. Two players are still on the board that could land in ATL, and both would be a good fit for different reasons. Shane Ray is an absolute monster as a pass rusher. He is a tad bit less athletically gifted than Bud Dupree, but is as relentless and violent of a pass rusher as there is and has become progressively more productive each year in college. Last season, Ray posted 14.5 sacks, 22.5 TFL, and 2 forced fumbles. He was the SEC DPOY, a 1st team All-American and a Hendricks Award finalist, and a Lombardi and Bednarik award semi-finalist. His hands are excellent, and he will need to use them in the NFL to make up for his two biggest weaknesses--his lack of length and his lack of weight. Although I think Ray's best fit would be in Atlanta as a Bruce Irvin type of pass rush specialist, it was too early to justify taking him. I thought about it long and hard, and had actually written a post and argument as to why Ray would be the best fit in Atlanta. But in the end, the allure of Bud Dupree was just too good to pass up.

Dupree is an athletic freak, and I would say he's almost on par with Jadeveon Clowney in terms of athletic freakishness. 6'4, 265 lbs., and the guy runs a 4.56 40.  A 138" broad jump and a 42" vertical show just how explosive Dupree is. On top of his elite athleticism, he has a great ability to set the edge against the run, the ability to drop back in coverage and play zone, and has ridiculous closing speed to lay out opposing QBs. Dupree does have his issues--below average instincts, lacking in ideal length (though made up for by his insane athleticism), and though he is a special athlete, he doesn't have the relentless motor that Shane Ray has. Dupree is still very raw as a pass rusher, but his flexibility gives Quinn the option to run multiple fronts and move Dupree from DE to OLB and back at his whim. With Quinn as his coach, expect to see Dupree improve in his pass rushing moves and ability, and look for opposing QBs to dread facing this guy.

In a division that features Drew Brees, Cam Newton, and presumably Jameis Winston, Dupree's versatility and explosive athleticism will give Atlanta the pass rush they so desperately need.
I love the rationale there at the end. Matt Ryan is in that second tier of NFL quarterbacks, but he's shown the ability to take over games and make players around him better. If Atlanta can get their defense to match their offense's potential, they should be good to go with Dan Quinn's defensive background.
Bud Dupree was recently selected by us at #16 in SB Nation's blogger mock draft, not to mention profiled by our very own Brett Kollmann. Needless to say that if the Falcons do take Dupree, the fierce rivalry between our two teams will only intensify.
Superb writeup by grandmasteroz. Coolbreeze3 is up next. Your pick is due by 7 PM CT tonight.
TIMING FOR SUBMITTING REMAINING PICKS: