This will be a quick little piece about a few aspects of Will Fuller's game which give hope for his future development and something which may provide cause for concern.
Ability to Burn:
Will Fuller's fast. He's fast in a certain sense which I can't say that I've noticed all that much in most receivers. He's not a quick twitch burst guy who generates separation off the line and then has the long speed to carry that separation. He's not a purely long speed runner who separates over a distance of 15-20 yards of running. With Fuller it's a 7-10 yard burst after his release off the line which causes his separation. Take this route against USC for example.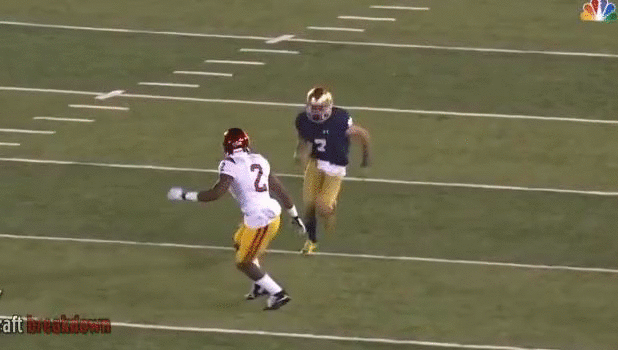 He starts off selling the go route to the outside of the CB. The thing here is the CB is pretty much turned in the direction that Fuller is running so there's no need for him to flip his hips and potentially lose momentum. He's able to go straight into running full pelt. Here's the thing though, Fuller literally does not give a crap. He explodes out of his break and burns one of the most athletic players in the country(Adoree Jackson, the CB on this play) by a good 3-4 yards.This is a really good sign of the what Fuller might be able to do in the future. He's quick out of his cuts and that's going to generate separation which regardless of everything else. The ability to make a cut and immediately have a quick burst of 2-3 yards which leaves any defender reeling.
The issue, which by now has probably been flogged to death is that Fuller can't catch or is a body catcher. Well watching tape on him you would probably be correct to draw that conclusion. I mean all things considered I can show you several instances were he is overly reliant on trapping the ball against his chest as his method for catching the ball. Instances such as
Here:
Here:
or Here:
The issue here is there is relatively no extension of his hands from his body and attack the ball. He's trying to secure the ball within a relatively small area where he has firm control of the ball with both his hands and body and that's exceptionally difficult to do. The examples of Fuller using correct technique and extending his catch raidus are rarities. Do they show potential to execute correct catching technique? Sure and there is something to be said for those glimpses but they are exceptions to the rule.
All things considered his out there to compliment Hopkins. He stretches the field vertically with his speed and puts stress on zone coverage schemes. He's interesting in the same way Percy Harvin was interesting. A complimentary threat to an already great receiver. In a similar way in which Pittsburgh has built their WR core around a stud like Antonio Brown with guys who excel in a variety of different ways Houston is seemingly also trying to do that with guys like Fuller and Braxton Miller. It can't be stated how Fuller's development will go or how the Texans WR coaches will handle him, those are the great unknowns in this equation. Fuller's got potential and plenty of reason for optimism along with plenty of reason to doubt him and his ability. The hope him moving forward should hopefully be a functional role within the offense with hopefully a more expanded use as his career goes on. The expectation should then be not on what he can't do now but more on what can he do in the future.